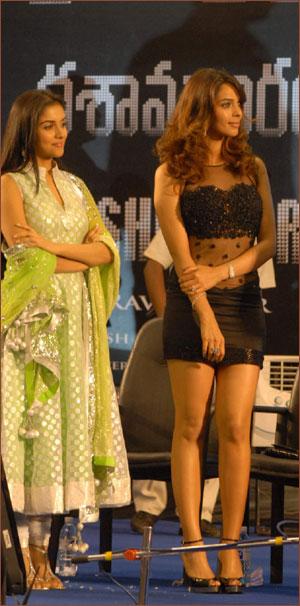 They are at it again, Chennai's moral police will leave no stone unturned as they've drawn their swords and this time round its Ms.Share-a-watt. At the star studded audio release function for 'Dasavatharam' held recently it wasn't Jackie Chan, Big B, Hema Malini, the Kalaignar or even the man of the moment Padmashri Kamal Haasan who received the maximum eyeballs. Shocked? Well it was the screen goddess who will star opposite to him in his magnum opus Ms.Molly-Kya Share-a-watt. It seems like upholding the moral values and preserving 'Tamizh Kalaacharam' has become the tashan of the 'Hindu Makkal Katchi'. These bhaktas of 'Baba Bangali' have lodged a complaint and in their own words
the actress, by wearing a mini skirt and exposing her back, had caused 'mental agony to the people of Tamil Nadu. By sitting cross legged on the dais where the Chief Minister was also seated, she had not only behaved disrespectfully but had also conducted herself indecently.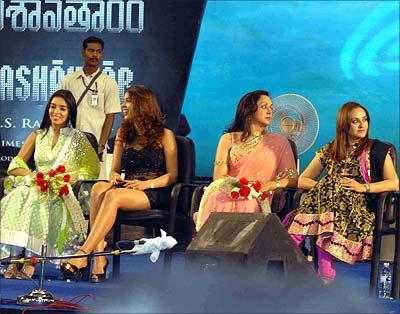 Cross-legged?? Wow! Sorry couldn't find that pic, but if anybody does please leave a comment. Poor Ms.Share-a-watt was unaware bout the Shriya fiasco but Ms.A-Sin was clever enough to take the cue. Well I've managed to contact Baba Bangali and ask him his views on the actions of his loyal bhaktas. The great Baba has honored this space by using it to send them a message and preferring this blog over regular print media. It must be noted that the views of the Baba are solely his and this blog doesn't take responsibility for any effigies burnt or sentiments hurt.
Dear Bhakta HMK,
I can understand what you are going through and the 'mental agony' caused by Ms.Share-a-watt. I agree that it's tough to get your GFs/wives to prance around in such nothings and you're hurt coz these filmwallahs have all the luck. But then egos and jealousy aside you also have to account for the heavy inflation rates. With the economy stuttering at 7.5% and inching towards 8%, you should actually salute the spirit of the woman for setting an example. The nation is facing a crisis with rising prices and commodities becoming dearer, and women like Ms.Share-a-watt and Ms.Curry-now Cup-oor are doing their bit for the economy. They are role models for a new generation ushering a new age, with their frugal choice of garments. I strongly advise you to join them in this revolution and practice what they preach.
Baba Bangali