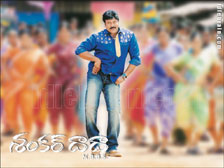 I was just reading the newspaper this morning and i couldn't believe my eyes, coz 'Shankardada MBBS' just finished 50 days at the box office! This is like wow for a movie that was worth nothing if not for the man they call chiranjeevi. I rarely watch telugu movies, the reasons for which can be found here. Yet i watched this movie out of utter curiosity for his fans and to understand how it feels like to watch a first day first show for a chiru movie.
Basically we had no plans to go but that day some of our staff were on leave, so we guys grouped in the canteen. Some of them punched a few numbers, all of us pooled in some cash and before i knew i was in a theatre in sangareddy with a huge cutout of the megastar staring at me. The environment was rhetoric with a lot of banners, and people haggling for tickets. We soon found our guy who handed us our tickets and i better say we were damn lucky. I was dumbstruck just by lookin at the preparations, i later found out that the banners belonged to the numerous fan groups. There was this one crazy guy who scaled the 20ft cutout and garlanded his star. there was another guy waiting for his turn with a milk packet in hand, I was like wat the **** is going on? Luckily he was stopped by the numerous other fans, thank god! Getting into the theatre was another big problem luckily the owner found us being the only decent looking people around, so he showed us in through the exit(funny eh?).
The inside looked like a battle field with papers strewn all over. My friend told me that they have a benefit screening at 6:00AM for the fans which lasts upto 10:30AM. Even the aisles had those white plastic chairs to accomodate more junta. I was like what do we do in case of any emergency? This was my first time in a theatre like this and i wanted to get back home alive. I was way too excited for all that stuff and was eagerly waiting for the show to begin. The movie starts with the banner n stuff, but people r alreay out of their seats! If this was the haalath in the balcony imaine the plight of the people in the lower stalls! The movie starts very much like apna Munnabhai MBBS but well u can make a masterpiece only once rite? All the charecters are not well cast except for the title role. So this guy srikanth makes his entry as ATM a.k.a any time murder(circuit was a zillion times better). I believe he is better known for his so-called funny films featuring the husband-wife angles(my previous post!). Poor guy doesn't have a clue as 2 handle the three pronged chaku n just shakes his wrists vigorously.
The song that come wen the titles appear is somewat like the 'subah ho gayi mammu' song n the only non-mass song, which is also incidentally the only listenable song in the whole movie. We have paresh rawal as the principal Dr.Ramalingeshwara rao, often referred to as lingam mavai by apna hero. Nothin wrong with paresh, he is a different class apart but his voice has been unnecessarily dubbed. I'm told that he has earlier acted in telugu movies with his original voice. He tries his best but the dubbing is pathetic n fails 2 recreate the magic of Dr.Asthana. Then there is apni heroine bollywood-discard sonali bendre, strange how all these bombay rejects hit big time down south! She was ok but wat peeved me the most was her outrageous outfits. In those mass songs it may b ok but in an hospital u just cant wear skin hugging garments with plunging necklines even if u r the dean's daughter. Then there is this comedian called venu madhav who i'm told is a superb guy, but in this movie he was reduced 2 a punchin bag with silly lines. The remaning of the cast was also not worth a mention. Then there was this another mumbaiya siren called anjala zhaveri, i googled her name 2 get a brief description. She was another big time flop in mumbai but has churned out hit with a lot of heros here in hyd. She was that 'aishwarya aayi' song in the hospital n mind u even this 1 was not that bad.
I was shocked wen i saw a villian in the movie and fight scenes defying gravity n prolly every other law of physics!
1) There is this scene where our hero is playing marbles n sees the goondas reflection behind him so he hurls the marble at the wall in front of him and ducks as the marble rebounds n hits the goonda behind him! The goonda falls a few feet away on impact!
2) Then in a scene where apna shankardada is playin gilli-danda n ATM is in trouble so he juggles the gilli on his feet(like pele would do with a football!) n hits it hard. The gilli travells parallel 2 the ground n between the legs of atleast 20 goondas b4 apna ATM kicks it with his boot , n the gilli hits the goonda tryin 2 strangle him.
3) Another sequence where shankardada kicks the seat of a bicycle which travels like a boomerang b4 hittin a goonda.
Now the songs. Well not much 2 say but pure mass stuff. They can be rated as mass, masser, massest! Same ol'hing with 50 ppl in same uniform behind our hero, n a same number in scanty clothes behind our heroine. Sonali is prolly pregnant coz her tummy was awkwardly protuding in those skin huggin garments! Then there was this song "kaanchanamala" on the lines of the 'dekhle' song. Cabaret n flesh were just an excuse as this dame(she was in the 'hawa mein udtha jaaye' song by bombay vikings) wanted 2 exhibit her waistline n thighs at every possible moment(yuck!).
The paralysed person charecter is played by a kid n was not bad.Suprise suprise! the cancer patient doesnt die of cancer but frm spurious drugs manufactured by our villian with the help of a few docs. So the cops cum 2 arrest our dean n shankardada seeks revenge by beating the hell out of the villian! there r empty capsules strewn all over, glass containers broken at the drop of a hat n chiru bhai doin revolutions in the air while kickin the goons. It was like watchin the diving events at the olympics!
Finally the only saving grace was the antics of shankardada n his literal translations of popular telugu idioms. I remember one in particular 'in front there is crocodile festival' which evoked thunderous laughter frm the audience. I'm not good at telugu n so don't know these idioms. Yet he was a few notches above the rest n carried the movie entirely on his shoulders. His on screen presence, dialogues, dance etc just right up there. This is ample evidence of the fact that such a mindless rip-off on munnabhai MBBS completed 50 days, n all the credit goes 2 chiranjeevi.
if u have been then thank u 4 readin
vanks
mayur