First things first, I apologize for my absence from the blogsphere for almost a month. A few of you might have missed me, though I had been commenting on a few blogs here and there. Loads of traveling, pubbing, version releases and some good movies had blunted my acumen. It was the season of graduation parties and strangely some good movies like 21, Narnia, Forbidden Kingdom and the baap of all Indy4! For those of you knitting your eyebrows Narnia wasn't just a kiddies movie, and the forbidden kingdom had the great JC in it, while comments against Indy won't be spared! OK I'm kidding.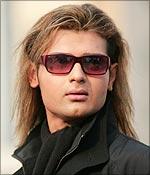 I feel that only when a son is terribly horrible you realize how good his not so great father was. Take Fardeen and Feroz Khan for example, and then there is Tushaar and Jetendra though nothing beats the deadly combo of Sunny, Bobby and Dharamendra . Continuing with the ladies you have Esha and Hemaji, Riya and Moon Moon Sen, I hope you get the drift. After you watch Fardeen Khan kill a film like 'khushi' you begin to see how good 'Jaanbaaz' was similarly watching Tusshar in any of his films makes Jeetuji dancing upon gigantic pots look like classics. The same analogy holds for 'Darling' and 'Dreamgirl' The latest entrant to this is the duo of Mimoh and Mithun Chakraborty, the former is so hopeless that he makes the latter's performances warrant an Oscar. For those of you who have trouble figuring out why I am talking so much bullshit, let me make it simpler, I WATCHED JIMMY! Yeas I really did and am glad to have survived the ordeal. Waking up next morning after such a traumatic experience was my biggest fear, and I thank the lord for allaying it. Is it really that bad? or am I being too acerbic you may ask.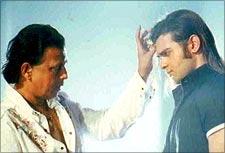 For starters if you are not already put off by the charismatic caveman looks, the silken gold tresses and rubber pout then his voice surely will. Believe it or not but Mahakshay(real name) sounds even more hoarse than Yashraj's croaking princess. Compound that to the plump and rotund torso which somehow miraculously manages to dance. I haven't even got to the acting piece as I wish to refrain from a 1000 word long post. Lets talk about the filmmaker first, from the guy who made 'Satte Pe Satta' and 'Boxer' not that either were great yet you would expect a decent launch-film for the son of one of the country's most famous and revered actors(Ok, atleast in Calcutta).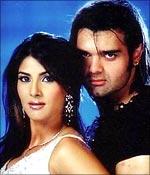 It was probably the only film in recent times where everything right from the banner to the ending credits was outright horrible. It actually is a modern day marvel to dish out such a poorly done film with so much technology available. In a time where movies are being made directly on the editing table and Fx studios this one manages to beat the odds and be unbearable. The so-called-dances are poorly choreographed, the costumes jarrish, dialogs weak and dubbing out-of-sync. For those interested in the female lead, I think the word 'porntastic' sums it all up. If you still wish for some more details then either watch the movie or ping me on gtalk. Our guy Mimoh continues to baffle me though, for Prabhuji has a lot of charisma and I'm told Mommy-Chakraborty was pretty cute as well. According to Darwin's laws Mimoh should have got at least one strand of their genes but surprisingly it isn't the case.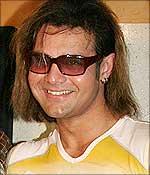 What more can be said where a car mechanic spins dics at night, wears armani t-shirts and lives in a huge house but has to make ends meet to pay of a 50-Lakh loan. Sounds confusing? Well that's only the beginning and 'picture abhi baaki hain mere dost'. Suffering from brain tumor with only a month to live was a common plot in the 70's and was imortalized by 'Majboor'. It was even ridiculed in 'Bluffmaster' but here it is serious business and Jimmy is ready to take blame for a murder he didn't commit in exchange for repayment of his loan. Lets not give the movie away in case any of you wish to watch it for the whodunit suspense. I have to thank the makers for such a bad movie and titillating my creative juices for this is something which even the trashy 'Trashan' failed to generate. Trashan was so stupid that I actually began liking it, I hope I won't be referred to a shrink for I feel it is pretty normal.
(Images: courtesy rediff.com)