It's that time of the year when we salute
the
worst in
Indian cinemawe salute the worst in Indian cinema. It's not everyday that we recognize the efforts of these filmmakers who put in hours of work to churn out box office duds. These duds are relegated to the depths of the box office under the heavy weight blockbusters every year. What began as a stroke of misfortune, turned out into a hobby as I opened up to the world of horrible cinema. You might be thinking that I'm referring to movies that titillate the masses with scantily clad heroines prancing around in their high heels, crass comedy, vulgar dialogs, bad actors with constipated expressions, amateur music directors, freestyle-aerobics-type-choreography, gaudy make up, you get the drift. One look at the nominees and you'll notice that it's mainstream cinema we're talking of. It was an arduous task to endure all these duds, some were so painful that I was afraid to fall asleep fearing nightmares. The 10-15 blockbusters that we manage to churn out each year sweep the popular award ceremonies, we therefore cater to the close-to-150 movies that fail to make the cut. We began this trend last year with a post that became extremely popular, and we return to continue the tradition and make this a regular feature at this space. There may be many other similar award blogs this year, but then lets live and let live!

Easily forgettable debut of the year – Male
Nominees: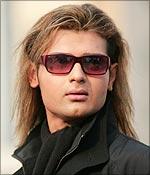 Harman Baweja – LoveStory 2050
Mimoh Chakraborty – Jimmy
Sikandar Kher – Woodstock Villa
Adhyayan Suman – Haal-e-Dil
Anurag Sinha – Black and White
The award goes to: We begin the proceedings with the stars of tomorrow. The rising scions who will grace the screens in the coming years with their towering performances. They've already started on the wrong foot with a distasteful debut, and the future seems bleak as well. Harman Baweja showed us why he could be the poor-mans Hrithik and this cloning seems to be the best of all the special effects in the movie. The kher heir Sikandar starred in two films last year, both which sank without a trace. A negative debut failed to work for the FTII graduate Anurag Sinha as well when Subhash Ghai's supposedly heart-warming film was neither black nor white. The award however goes to Mimoh Chakraborty who seems all set to continue the legacy of Mithunda in Jimmy where everything right from the titles was shoddy. We hope Kanti Shah and TLV Prasad are listening, for they may have found the next best thing in c-grade cinema!
Easily forgettable debut of the year – Female
Nominees:


Anoushka Sharma – Rab Ne Bana Di Jodi
Sonal Chauhan – Jannat
Shweta Kumar – Karzzz
Adah Sharma – 1920
The award goes to: It's now time for the screen scorchers of the morrow, long legs and raunchy item numbers. Since we don't expect any of them to make us swoon to their performances, we can safely assume that we'll be seeing them perform in stage shows and reality TV contests. Anoushka started her career with the biggest production house but for failing to recognize her husband without a mustache, she makes it to our list. Emran Hashmi's heroines are mostly reduced to smooch dolls and Sonal Chauhan doesn't disappoint in that department at all. For essaying the role of a exotic dancer to perfection, she makes the cut and proves that she has loads of item song potential. Not many would even remember a film by the name 1920 and that speaks wonders for Adah Sharma who shrieked and squealed in a ghost ridden mansion. All said and done, the award however goes to Shweta Kumar for garnering the courage the sign a movie opposite the great Himes bhai.
Nominees:


Tandoori Nights – Karzzz
Bang Bang – Hello
Move Your Body – Kismet Konnection
Dil Dance Maare – Tashan
Tha Tha Karke – Golmaal Returns
The award goes to: Lyrics are one thing that we notice the first when we sample the audio of a movie. Call it a quirk but good lyrics tend to make us go soft on a movie. Every year however we come across a set of lyrics that will make one wail in pain. If listening to Himes Bhai was painful enough then compounding that with something like 'Tak tana na na tandoori nights,tandoori nights, tandoori nights' doesn't help either. It could however become the anthem of a punjabi restaurant is marketed properly, certainly not meant for a CD. With lyrics like 'Bang bang bang, Bang bang zamana bole, Boom boom boom, Boom boom deewana bole' you're definitely asking for trouble. Our guess was that the song was written during Diwali or close to a firing range. What do you do when the lyricist is so confused that he forges something like 'Sade Naal Karle Party, Kudi Tu Lagthi Hai Naughty, Freaky Freaky Raat Ho Gayi Come'n Sing Along With Me Now' you are assured that the fat lady has sung. When Punjabi meets English in a Hindi film, things indeed get freaky can't quite comment on the naughty part though. When we first heard 'Aaja lag Ja Gale Se Mere Tha Kar Ke, tha Tha Kar Ke. Sari Duniya Se Ishq Baiyan Kar Ke, tha Tha Kar Ke' we were doubting our own Hindi skills. The air was cleared and we realised that tha tha were just random sounds used to make up for rhyming with the music. The award however goes to 'White white face dheke dil woh beating fast sasura Jaan se maare re. Very happy in my heart, dil dance maare re'. If Punjabi meets English wasn't enough, we got Bhojpuri in the fray as well and some supremely sublime verses like these just take the cake!
Nerve wrecking music of the year
Nominees:


Karzz – Himesh Reshammiya
Hello – Sajid Wajid
Bombay to Bangkok – Salim Suleman
One Two Three – Raghav Silchar
God Tussi Great Ho – Sajid Wajid
The award goes to: Good music always guarantees a good opening, and loud pathetic tracks tend to drive people away. This year featured the legendary nasal crooner in a film where he starred and scored the music as well, which would explain appearances in every category. However Karzzz had a few addictive loops and our love for Himes Bhai denies him the award. The brother duo of Salim-Suleman who've been behind the background score for some of the best films, did such a shoddy work with the soundtrack when Nagesh Kuknoor approached them for Bombay to Bangkok that we fail to recollect a single song! Raghav Silchar who impressed with Kabul Express fizzled out with One Two Three and the same song was played thrice. Our guess was that he took the title a tad too serious, and even sang female vocals for a song! The award however goes to Sajid-Wajid for the atrociously horrible Hello whose title song could also be nominated for the most irritating song played on radio. It's not surprising that they followed it with another shockingly packaged album for God Tussi Great Ho, I guess we're not even bothered at this stage.
Most Irritating Song of the year
Nominees:


Tandoori Nights – Karzzz
Chane Pe Dance – Rab Ne Bana Di Jodi
Hello – Hello
Singh is King – Singh is King
Zara Zara – Race
The award goes to: Ah we again have the dhabha anthem finding its way into yet another list, but when you are dealing with such ineptitude, you just force your way in! As descried in the previous section we aren't believers that the word hello be uttered in various tones and be passed as an excuse for a song. The bushmen of the Kalahari desert may buy it as a song but nowhere else in the world can you trick us. Not sure if we have anything against title tracks, but the Singh is King track was played on every news channel and radio station to a point where we could take it no more. Here at Dappan Koothu we love Katrina Kaif but imagining her shimmying on the dance floor asking you to touch her every 5 mins was like pushing the limits. There's no rule that popular hit numbers can't be irritating and hence the award goes to Chance pe Dance for making getting our left and right feet all tied up. We may not be able to get the steps to become hep but we know to switch channels before we get confused between our left and right feet being aage peeche!
Unspecially Special Appearance in a film
Nominees:


Salman Khan – Hello
Amitabh Bachchan – God Tussi Great Ho
Shah Rukh Khan – Bhoothnath
Sonu Sood – Singh is King
Bobby Deol – Dostana
The award goes to: It has been a year of guest appearances and as a moviestar you career seems incomplete without atleast one special appearance even if it is in your neighbors home video! With a weird accent, half naked music video and talking to a woman who a figment of his imagination Salman Khan is an automatic selection. The BigB was in this list the moment he signed God Tussi Great Ho, we assume he left his glasses at home when he was given the script. Borrowing Morgan Freeman's clothes didn't seem to help either and gave him the dubious distinction of joining this elite league. You might wonder what Shar Rukh Khan was doing in Bhoothnath so were we and turns out that even SRK himself is still wondering and hence direct entry! Sonu Sood made a yet another miss-if-blink appearance in Singh is King to follow up on Jodha Akbar. But wait, wasn't he a principal character in Sing is King? After all he was the title character and the crux of the plot, guess they forgot to tell him that! The award however goes to Bobby Deol for pulling the carpet from underneath when you least expected in Dostana. In a movie where two men pretend to be gay, Bobby infact a gay man pretending to be straight. Suprised? Need proof? Who else would want to see two dudes make out in broad daylight?
Most positive actor in a negative role
Nominees:


Anil Kapoor – Tashan
Urmila Matondkar- Karzzz
Kay Kay – Drona
Entire cast – Race
Imran Khan – Kidnap
The award goes to: There always has to be evil so that it can be vanquished by the good and hence for our heroes to prevail we need all the negative energy we can get. The bad men have always instilled fear and made audiences shudder at their mention but then here we are talking of people who ended up utter mockery. If parodying the iconic temple scene of 'Deewar' in bhojpuri-englees wasn't criminal enough, Anil Kapoor raised the stakes by baring his baal-ki-dukaan chest in Tashan! Kay Kay seemed the least menacing and infact Abhishek seemed much more scarier in Drona. The weird hair, nails, cape and puppets reduced the villain in a so-called superhero film to a silly caricature. With a weird haircut and jumping through a building under construction you may wonder why Imran Khan made it to this list. Well with chocolate boy looks and a silly childhood motive he not only made his character look absurd, he topped it with letting his booty take a dip in the beach and stab him. At this point however we'd like to nominate the whole cast of Race for double crossing each other a million times in a plot so skewed that even Fardeen Khan could explain the mystery of the Bermuda Triangle in simple terms. Without an iota of doubt the award goes to Urmila Matondkar for her treacherous potrayal of kamini in Karzzz. If signing the film wasn't bad enough she topped it with a gold dress, hat, shoes et all and lines like 'Haan haan haan haan, maine hi khoon kiya hai, haan'
Best animal in a meaningful role
Nominees:


The Elephant – Jodha Akbar
The Horse(Devdutt) – Drona
The talking teddy – Love Story 2050
The crow on the tree – Phoonk
The award goes to: Never before have we seen so many non-humans in accomplished roles involving stellar performances. While the credit may be given to the way their character was etched, they still had to brng out the nuances in critical scenes that held the whole plot together. What would Jodha Akbar have been if the elephant had not bowed to Hrithik and allow him to emerge the victor and instead squash him? Would Love Story 2050 have been as silly it was if we did not that talking teddy who always got kicked in it's boo boo? How else would Priyanka realise that she loves Harman? It's no secret that the crow took the fattest paycheck in Phoonk along with maximum screen time. Heck it was the only indicator that this was supposed to be a spooky film and hence the morbid sounds! The leader of the pack and our award winner is devdutt the horse in Drona, without whom the plot would never take of. The horse bore the burden of both Priyanka and Abhishek thereby actually carrying the movie on his shoulders!
PS: Owing to the length of this post andd the big awards that follow this post is split into two parts. It's meaner, dirtier and nastier, let us know if you liked this one, part two is up here!