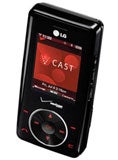 If you've seen the latest TV commercial of music playing near some molten chocolate then stop guessing. It's not a new chocolate bar from Hershey's(that is what I was thinking when I saw a bar emerge) but a phone! Yes sir, the molten chocolate drips off the bar to reveal the brand new phone by Verizon and produced by LG.
Ladies and gentlemen, I give you 'Chocolate'
I'm not sure if the phone will come wrapped in a silver foil but it surely has generated a lot of buzz. Techblogs are screaming with reviews and comments are flowing in hundreds. I don't wanna go into the phone as you can easily read it elsewhere, but instead lets talk of the ad.
You hear 'Goldfrapp' in the background as you see ripples in molten chocolate. The music generates an earthquake effect and out comes a bar with chocolate dripping from it!(It's super sexy too see so much chocolate!) Just when you are waiting for the Hershey's logo you see something black on the bar. When all the chocolate drips away you see not a new chocolate bar but a phone in black with red lights.
It slides to show you the keypad and then you see the Verizon logo on your screen! Great advertising but can't say the same for the product.
pros:
mp3 player
great looks
$150 after rebate
camera function
cons:
no click-wheel
end button (very small)
no on-board memory card and 64mb internal memory
doesnt recognise all unprotected mp3s
doesn't recognise all common pic formats
kinda forcin users towards VCast
closing comments: Anything that looks good isn't necessarily good
Technorati: verizon chocolate, LG, Goldfrapp, Hershey's