Someone asked me if I have been going through a writers block, so let me clarify that no such thing exists. Fact is that I'm too dumb for blocks and all, it's just that I've been spending time on researching plugins and tinkering with them. I've had a strong urge to increase the user experience on this page, and a war with PHP errors followed. After a couple of days of PHP tutorials and armed with firefox extensions for debugging, I'm back! Read on while I boast of the new features I've added!
Movie Ratings: I realized that I watch far too many films and obviously I don't review all of them. Some times it's 4-5 a week and that includes my lazy weekends. I'd like to have a say on each of them but they aren't always blog-worthy. These ramblings now find a spot on my sidebar and also have a dedicated page with a ten-star rating system. I must however include that these are my views and the ratings are an indicator of how much I felt the movie was worth. The previous line goes without saying, but just making sure.

Alltop and QR Code: I'll have to thank all my readers and search engines for all the traffic over the past few months! This blog now features on 'AllTop India' list along with the big names in the blogosphere! I want
to
paint my
QR Code on
my foreheadI want to paint my QR Code on my forehead, so that people can take pics and decode my name, etc! Fine, that was a tad too geeky and weird as well. For the uninformed, QR codes are cellfone-readable barcodes that can carry information such as URLs or single line descriptions. I've put up my QR code in the sidebar, what about yours? I don't see it as the next big thing but then, Just for kicks!
Comment stats: This is a fantastic feature and I hope it will appeal to all my readers. When ever you comment using the same email address wordpress remembers the number and the posts. So go ahead and comment on this post. Now if you hover on the username, you should see the number of comments you've made, your most recently commented posts as well as your most recent post if you have a blog. Brilliant isn't it?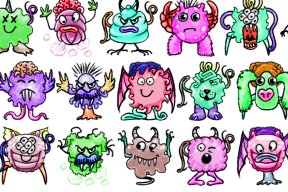 MonsterIDs: MonsterIDs are identicons just like the hugely popular Gravatar service. Since many of my commentators are blogger users or non-bloggers, the WordPress supported Gravatar service returns blobs as user images. MonsterID mangles your email address and generates an image that is unique and doesn't require any registration. WordPress users will however be able to see their Gravatars on their comments. I tried many plugins and even edited a few before Lekhni pointed me to this post. Thanks again Lekhni!
Blogroll: I noticed that I have a very boring looking blogroll and decided to spice things up. Take a look at the new and improved blogroll which not only links to the blogs I read but also parses their feed. You can also see feed snippets of their most recent posts. I must however apologize to blogger users as the atom feed doesn't support previews. After hacking the plugin, I've got it to atleast display the most recent post. Let me know if you use feedburner and I'll make the change. If you have a blog and don't find yourself on this list then just subscribe to my feed and leave me a comment! I apologize for the bathroom joke on the Olympics. I really love all my readers and it was only in jest, and I couldn't resist it.
Rate and Print: I'm sure that these would be the most unused features but then there's no harm in shameless publicity. If any of you would like to print a post you found interesting then from now onwards all posts are printer friendly! You can also anonymously rate the posts on a scale of five, so go ahead and give it a shot! Do rate the posts you read however, for the statistics help to identify a trend.
Twitter: Twitter is a highly addictive micro-blogging service and it bit me in the last month. The good thing is that most of my fellow bloggers are on twitter as well and we connect on a daily basis quipping on new links and other stuff. Twitter enables me to post those one-line blogs that I don't feel are worth this space, or to share interesting URLs. Try Twitterrific, TwitterFox, and Twhirl are popular clients. I've got my twitter updates in the sidebar you can find me here. If you use twitter, leave me a comment so that I can follow you.